The Story of BE Ironbridge
Brooke has been in the hair industry now over 5 years, and just getting her qualification was never going to be enough.
Formerly working for the Amazing Tim Scott Wright @ The Hair Surgery Brooke has really been shown a different aspect of just 'basic hairdressing' she went onto do several courses in and out of the salon, a weeks course at Sassoon Academy London being part of prestigious year long courses created by The Fellowship Hairdressing of Excellence and to be finalised for the best of UK hairdressing, the British Hairdressing awards, the British hairdressing business awards as well as being nominate as one of the UK's best bridal hairdresser.
She really loves her craft and loves to take on any challenges. Brooke is always saying you never reach the top as there is always something new to learn, and that is what she does best.
Everyone working at the salon will have gone through extensive training with Brooke, allowing them to divert into the sectors that they love, that being colour, barbering or creative cutting. She likes to keep a passionate team on board which allows them to follow the career path of choice and to really love what they do.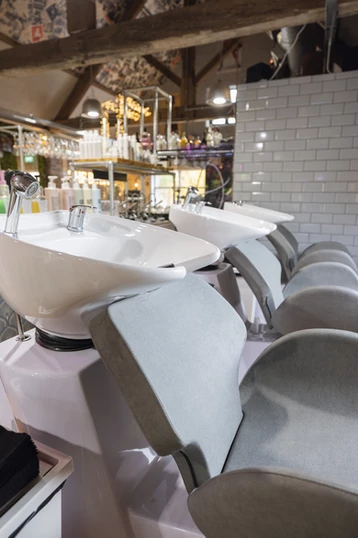 Location
So a bit of history about where we started. A Garage and a vision is where it began. I had been looking for a unique building for quite some time, and here it is the former 'Dale End Garage' everyone said when you know you know! I definitely had this feeling when walking into this building even knowing we would embark on a huge renovation project! From then on it was our mission to be able to create a 'hub style' environment which would feel more than just a hairdressers.
So we went onto get our alcohol licence so we can serve a glass of wine or beer after a stressful day at work! Then onto plenty of electricity and USB points so you can work from the salon and charge your electricals. And then a snug area where you can relax with a colour or treatment on and take in your surroundings, there is lots to see.